Business Revitalization Program - PROGRAM FULL
Thank you for you interest in the Business Revitalization Program. Our program is NOW FULL. We are no longer accepting applications.
Image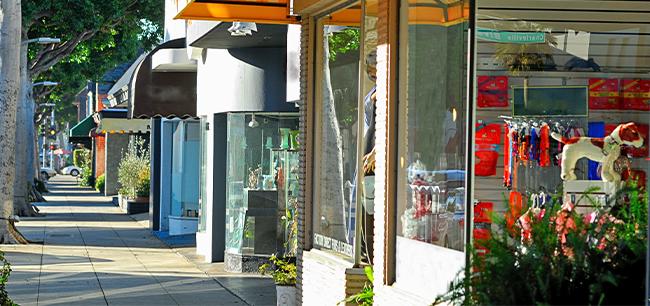 General Program objectives include, but are not limited to:
The rehabilitation of commercial properties in unincorporated communities

Storefront and façade improvements
The Riverside County Office of Economic Development will manage the procurement of the following services:
Design consultants

Construction (and prevailing wages)

Permitting

Environmental
The property owner will be responsible for the day-to-day management of the design and construction, however, the County will be available to assist as needed and give clarification on a project. The County will ensure all construction is paid the higher of the federal Davis-Bacon Act or California Department of Industrial Relations prevailing wage rate for any given classification employed in the performance of this contract.
Eligibility Criteria
Image

Small Private For-Profit with fewer than fifty(50) employees including sole proprietorships, independent contractors, owners and owners on behalf of tenants.

Business must be located in the unincorporated communities of Riverside County

Excluding Code Enforcement projects, existing businesses must be current on all permits and appropriate land use entitlements
Ineligible Business Types
Non-Profit or Public Entities

 Startup Businesses (with less than one (1) year of operating history as of September 1, 2022)

A business engaged in any activity that is illegal under federal, state or local law

A passive business, investment company or investor who files a Schedule E on its tax returns

A speculative business, meaning a business for the sole purpose of purchasing and holding an item     until the market price increases or other business principally engaged in risky activity for the chance   of an unusually large profit

A business that restricts patronage for any reason other than capacity, specifically any business that illegally discriminates patronage

Residential projects or real estate investment projects including short-term rental operators

Casinos/gambling establishments

Adult-entertainment related businesses

Cannabis-related businesses
Program Details
Click on the following flyer/guidelines to learn more about the Riverside County Business Revitalization Program.The Application portal opened on SEPTEMBER 1, 2022. If you have any questions, please contact us at rivcoBRP@rivco.org or (951) 955-8916.
Haga clic aquí para ver en español: Volantes / Guías
Image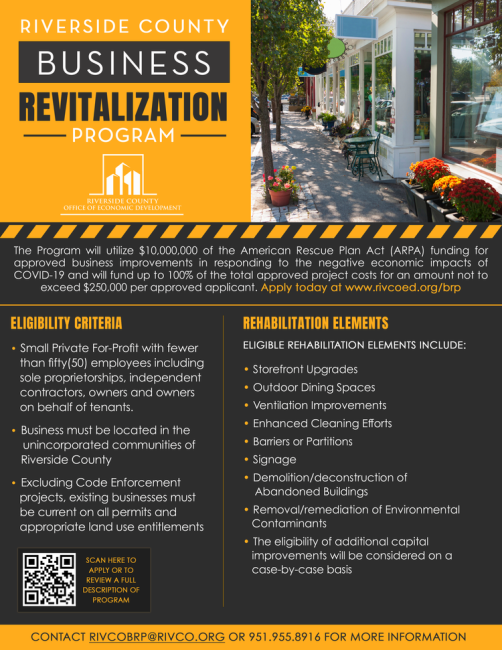 Image