Trees enhance a community by improving air quality, shade and beautification.
Mead Valley Urban Tree Canopy Program
Mead Valley Residents, Schools and Businesses
Date: July 8, 2023 | Time: 9:00AM - 12:00PM
Location: Mead Valley Community Center | 21091 Rider St., Perris, CA 92570
We're giving away 1,000 FREE shade trees. (Limit up to 3 shade trees per household) Residents who received trees in past events are disqualified for future events.
Sign up today to receive priority registration at our next tree distribution event!
For questions regarding the Mead Valley Urban Tree Canopy Program, contact us at amontes@treepeople.org
------------------------------------------------
* Interested participants will need to visit a tree distribution event in order to pick-up shade trees. Providing your information may offer you priority access and registration during tree distribution events. This registration does not guarantee the provision of trees or service by The County of Riverside or TreePeople.
Image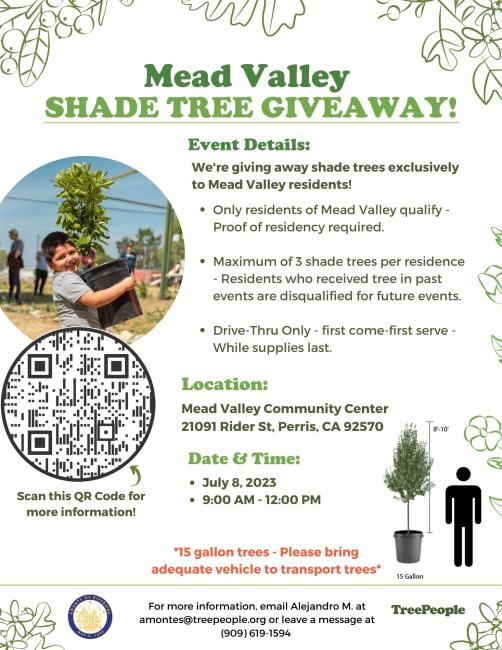 Image