County of Riverside
Microbusiness COVID-19 Relief Grant Program
APPLICATIONS ARE NO LONGER BEING ACCEPTED.
The application portal closed MAY 31, 2023 AT 5PM.
Image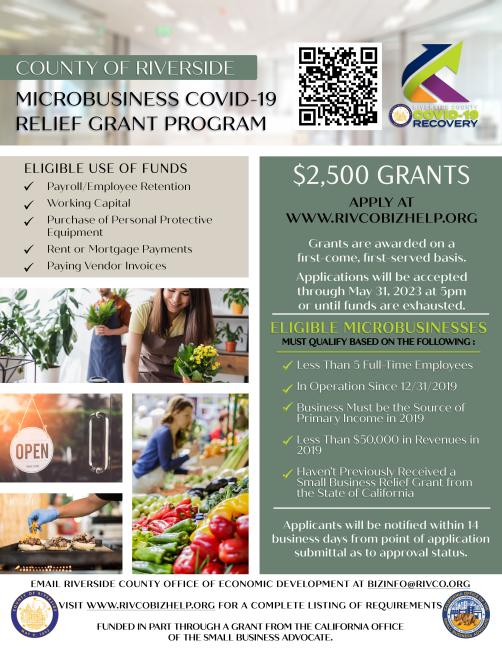 The Riverside County Office of Economic Development is pleased to announce that microbusinesses negatively affected by the COVID-19 pandemic, in accordance with specified criteria, may apply for a $2,500 grant.
The intent of the Riverside County Microbusiness COVID-19 Relief Grant Program is to provide relief to the hardest to reach microbusinesses and entrepreneurs located throughout the county.
Applications will be accepted on a first-come, first-served basis for qualifying microbusinesses. 
Be located within Riverside County

Less than five employees

In operation since 12/31/2019

Business must be the source of primary income in 2019

Less than $50,000 in Revenues in 2019

Haven't previously received a small business relief grant from the State of California
Eligible Uses of Funds Include:
Payroll/Employee Retention

Working Capital

Purchase of Personal Protective Equipment

Rent or Mortgage Payments

Paying Vendor Invoices
For more information on the Riverside County Microbusiness COVID-19 Relief Grant Program, please contact us at [email protected] or (951) 955-0493.
Funded in part through a Grant from the California Office of the Small Business Advocate. All opinions, conclusions, and /or recommendations expressed herein are those of the author(s) and do not necessarily reflect the views of the California Office of the Small Business Advocate.
Spanish Grant Program Flyer
Image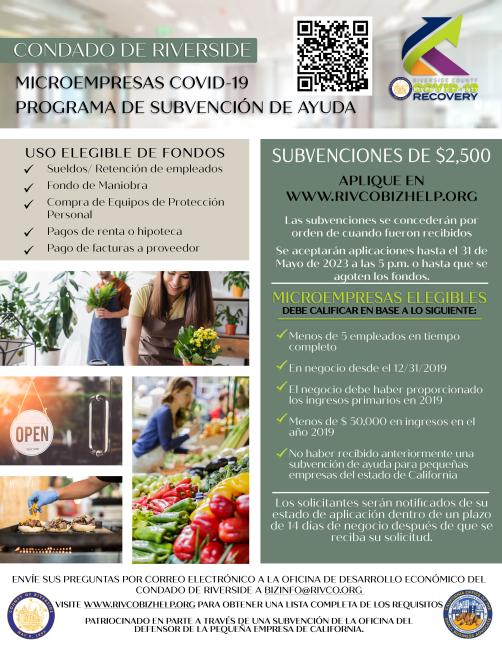 La Oficina de Desarrollo Económico del Condado de Riverside se complace en anunciar que las microempresas afectadas negativamente por la pandemia de COVID-19, de acuerdo con los criterios especificados, pueden solicitar una subvención de $2,500.
La intención del Programa de Subsidios de Ayuda COVID-19 para Microempresas del Condado de Riverside es brindar ayuda a las microempresas y empresarios más difíciles de alcanzar ubicados en todo el condado.
 Las solicitudes se aceptarán por orden de llegada para las microempresas que califiquen.
Estar ubicado dentro del condado de Riverside

Menos de cinco empleados

En operación desde el 12/31/2019

El negocio debe ser la fuente principal de ingresos en 2019

Menos de $50,000 en Ingresos en 2019

No haber recibido previamente una subvención de ayuda para pequeñas empresas del Estado de California
Los usos elegibles de los fondos incluyen:
Nómina/retención de empleados

Capital de trabajo

Compra de Equipo de Protección Personal

Pagos de alquiler o hipoteca

Pago de facturas de proveedores
Para obtener más información sobre el Programa de subvenciones de ayuda COVID-19 para microempresas del condado de Riverside, visite rivcobizhelp.org, o contáctenos en [email protected] o (951) 955-0493.
Financiado en parte a través de una subvención de la Oficina del Defensor de la Pequeña Empresa de California. Todas las opiniones, conclusiones y/o recomendaciones expresadas en este documento pertenecen al autor o autores y no reflejan necesariamente los puntos de vista de la Oficina del Defensor de las Pequeñas Empresas de California.