Film Riverside County
With a region of over 7,300 square miles, the Riverside County Film Commission (RCFC) works closely with all 28 cities located within its borders, as well as State and Federal agencies to help streamline your production and make it successful. We can assist you with everything from permitting in all jurisdictions within the county to finding locations and other local production needs. Riverside County is located east of Los Angeles conveniently opposite of work traffic, with areas as close as 45 minutes from downtown Los Angeles.
Click on the map to expand the view to get a small scale perspective of 7,300 square miles! 
 
California On Location Awards (COLA)
Riverside County Film Commission is a proud sponsor of the 2023 California On Location Awards (COLA).
This year we have two finalists up for Public Employee of the Year from Riverside County!
City of Palm Springs Permit Officer, Janice Lopez and Riverside County Transportation Department Permit Coordinator, Melissa Martinez.
Congratulations to both of these amazing women who provide excellent service to the film industry. Best of luck!
View the Official Trailer for COLA 2023 by clicking the You Tube video to the right.
 
Why We Support Film Production?
Film Production is an integral part of economic development as it provides a platform for job creation, investment, and tourism. The film industry is a key contributor to the economy as it generates significant revenue from movie sales, distribution, and merchandising. Furthermore, film production creates employment opportunities for various professionals, including actors, producers, directors, editors, and set designers, among others.
The industry also stimulates investment in infrastructure development, such as studios and post-production facilities. Additionally, the tourism sector benefits from film production as it promotes travel and exploration of film locations, which in turn boosts the local economy. In summary, the film industry plays a crucial role in economic development and contributes to the growth of local and national economies.
Attracting Film Production
RCFC hosts Familiarization (FAM) Tours in Riverside County throughout the year. We showcase our amazing locations in all areas of our County to some of the best Location Managers in the industry who represent film, television, commercials and other genres.
Image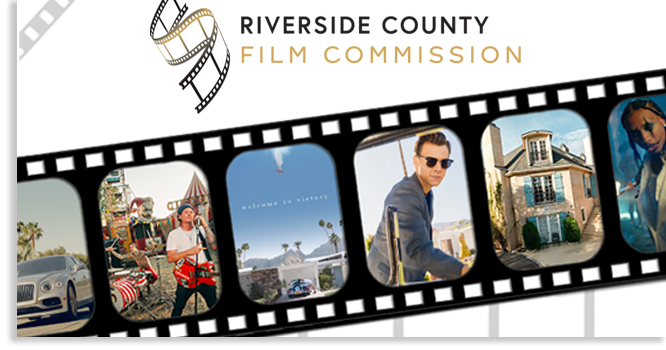 Permits
Applying for a Film Permit
RCFC, operated by Inland Empire Film Services, under the auspices of the Riverside County Office of Economic Development, is recognized by the California Film Commission as the official advocate for filming interests in our region.
RCFC is your first stop for resources that serves the film, television, commercial and still photography industries as well as all other genres involving still or motion photography. The county's geography accommodates varied looks such as winding roads, open desert, picturesque mountains, and scenic landscapes proving a perfect backdrop for that specific look.
Any questions or additional comments, please refer to the contact information below. Applying for a film permit? Film Permit Application
Contact Inland Empire Film Services for more information: [email protected].
Image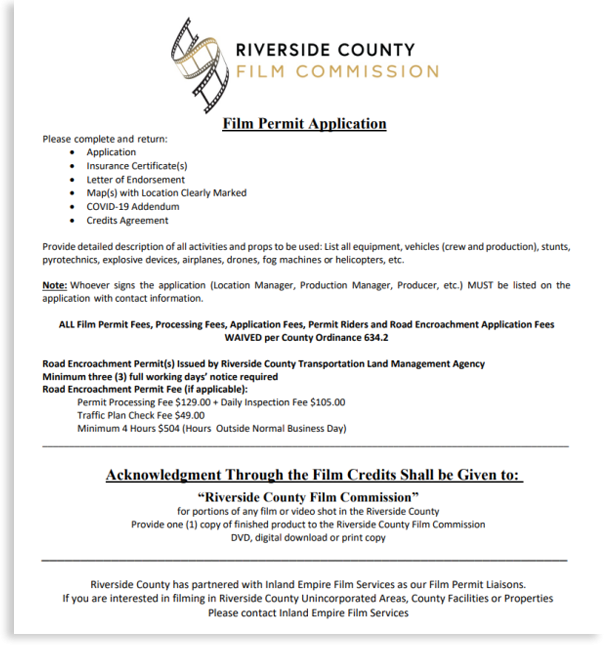 January - June 2023
Bi-Annual Report
Uncover the magic behind the camera and learn more about the cinematic wonders captured throughout Riverside County. Delve into our latest Biannual Film Report, which includes:
Filming Highlights in Riverside County 

Economic Impact Insights 

And More...
Location! Location! Location!
Riverside County Film Locations
Location is a crucial part of the storytelling process in video production. The right location can add depth and meaning to a scene, and make the audience feel like they are part of the story, as well as help to create a sense of realism and authenticity.
Riverside County has many film locations that are unique to our region. From a quaint mountain town, to a mid-century modern home, and everything in between, you'll find that perfect shot you're looking for.
Click on the video to the right to see the diverse locations Riverside County has to offer your production.
2023 Riverside County
Economic Profile
Click HERE to browse the Riverside County Office of Economic Development: Economic Profile. 
Discover the vibrant economic landscape of Riverside County, a sprawling 7,300 square mile county nestled between Orange County and the Arizona border. With its picturesque rivers, majestic mountains, vast deserts, and fertile valleys, the county offers an unparalleled diversity of natural beauty. Home to over 2.4 million residents, the region boasts a wealth of recreational opportunities, from beaches and hiking trails to renowned wineries and desert resorts.
Additionally, Riverside County's robust transportation network, including highways, public buses, and commuter rail trains, ensures seamless connectivity, making it an ideal destination for businesses, entertainment, and an exceptional quality of life.
For more information click the following link below to explore the 2023 Riverside County Economic Profile.