The  Riverside County CSA Recreation Unit is dedicated to providing fun, spirited activities and events which enhance the quality of life for our CSA residents within Riverside County. Looking to meet new people within your community? Or just want to have great family fun? Come join one of our awesome community events throughout the year. Be on the lookout for new events, coming to a CSA park near you. Follow us on Facebook, Instagram or Twitter to see our coming events as well as recaps and photos of past events.  
Upcoming Events
Put on your costume for a fun Fall Festival brought to you by CSA 134 & 143. Mark your calendar for a day filled with activities, crafts, and pumpkins! The Festival is free to attend for residents of CSA 134 & 143.

CSA 134 will host the Fall Festival on Saturday, October 14th from 2:00 p.m. to 5:00 p.m. at Deleo Park, 25655 Santiago Canyon Rd, Temescal Valley, CA.

The following weekend, CSA 143 will be at Galleron Park, 44725 Morgan Hill Drive, Temecula, CA Saturday, October 21st from 2:00 p.m. to 5:00 p.m.
Image

TRUNK OR TREAT VEHICLE REGISTRATION FORM
Fall Festival 2023
Registration deadline: Wednesday, October 11, 2023 by 5:00PM.
Location: Deleo Regional Park (only)
This is a great opportunity to promote your business and organization to thousands of local residents.
Please prepare for 1,000 children to visit your vehicle.
Toys and prizes should be geared towards ages 2 ‐15 year olds.
Your display must be set up in the parking lot no later than 1:30pm. Event staff will direct you to your assigned spot.
If you run out of candy and prizes, ask the event representative for more, or simply close your trunk.
Games and activities are encouraged at your vehicle.
To register, please fill out the form below. Any questions or concerns, please call:
(951) 955‐3105  pauhern@rivco.org
Image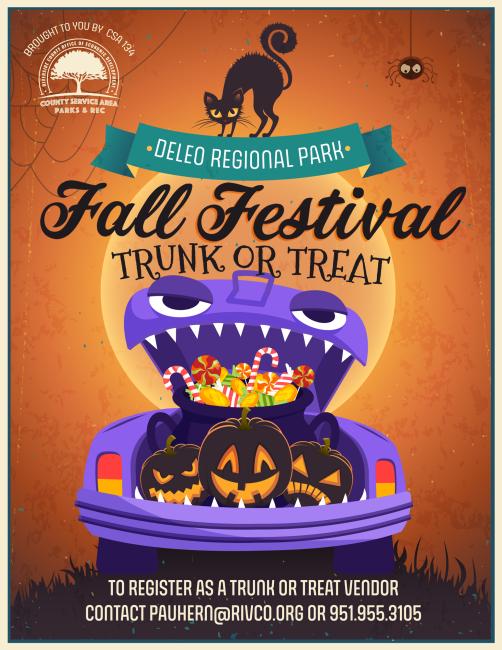 Event Summary
Movies in the Park 23'
CSA 134 & 143 residents were treated to a summer filled with fun activities, snacks, and movies. This year CSA 134 & 143 screened DreamWorks Puss in Boots: The Last Wish and Illumination Minions: The Rise of Gru. There were some lucky raffle prize winners of an Amazon Fire Stick, Target's large inflatable sloth, and a Squishmallows mystery box at each park. Each winner was able to take home one of the prizes and some fun giveaways for all ages. The County Services Area Parks and Recreation also partnered with Jolly Jumps, Sugar Box Ca, and Elite Balloon Designs providing entertainment, popcorn and churros, and balloon decorations. Thank you to everyone for coming out and enjoying the summer nights with us. 
SPRING FEST 23'
CSA 134 & 143 residents, enjoyed an exciting celebration of Spring!!! Attendees were treated to Easter Egg Hunts, Carnival Games, Crafts, Cupcake Decorating and much more.
Fall Festival 22'
CSA 143 & 134 residents were treated to an amazing celebration of the Fall Season. Activities included a haunted house, pumpkin patch, games, crafts, cotton candy and much more. Join us October 2023 for our next Fall Festival!
Winter Fest 22'
Saturday, December 17th at Deleo Park, hundred of CSA 134 residents joined us to celebrate WINTER!!! This event provides so much fun for the whole family. Activities included carnival games, crafts, cookie decorating, sledding ramps and much much more.
CSA Recreation Social Media
Get up to date news, information and upcoming events from County Service Areas - Parks & Recreation
Contact Us
Feedback
Do you have a comment, request or suggestion? Fill out the form below. We will respond to you as soon as possible! For more information on our recreational activities or events, call (951) 955-4816
Vendor Interest
Are you interested in being a vendor at one of our upcoming event? Fill out the form below. We will respond as soon as possible.